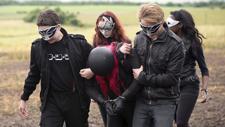 The Shadow Games is the fifth episode of Series 7 .
Previous: Revenge Is Sweet .
Next: The Beginning . 
During a successful M.I.9 mission to secure the deadly assassin Samantha Stiletto, KORPS mistakes Keri for the assassin. Keri takes Stiletto's place in the world's most deadly tournament, The Shadow Games, where the winner will become the new Shadow Master of SKAPULA, KORPS' assassination division. The team's only chance of rescuing her is to rely on ex-Shadow Master, Alexis von Hades, who is far from trustworthy. 
Meanwhile, the Saint Hearts students end up watching the Shadow Games due to Tom's alterations with experimental educational programming.
Tom uses a vulcan nerve pinch to defeat Stiletto.
The announcer says "Captains of KORPS, assassins of SKAPULA."
Second apperence of Alexis Von Hades.
Second mentions of Trina (Keri's friend).
The announcer, Stella Knight, Frank London, Aneisha Jones and Daniel Morgan all say the episode title.