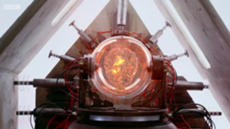 The Mastermind is the super computer in charge of KORPS.
Gender: Male
Occupation: KORPS leader
Faction: KORPS
Enemy: M.I.9 
Biography
Edit
His consciousness was transferred to a computer after M.I.9's assault on KORPS ten years ago. In The Last Stand , The Mastermind was transferred into Keri 's body by Mike Stern . Keri went into the Heart to stop The Crime Minister from gaining control of the country and used the Heart to activate the mind transfer. Which caused The Mastermind to go back into his Neuron Containment Case, he soon died after.
Appearences
Edit