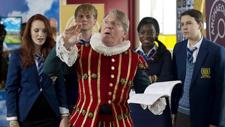 The Man Who Drew Tomorrow is the third episode of Series 7 .
Previous: Frankenstien .
Next: Revenge Is Sweet .
The team are sent to investigate Derren Beige, a flamboyant clairvoyant whose previously pathetic predictions have suddenly become scarily accurate. But Derren is kidnapped from right under the agents' noses, leaving MI9 boss Stella far from impressed. Suspended from duty, the team must race against time to figure out how Derren uses drawings to predict the future, then rescue him before his new-found powers fall into the hands of his dangerous captives.
Derren Beige is a parody of Derren Brown.
The Crime Minister references the song Tomorrow Belongs To Me.