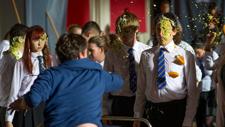 The Hive is the sixth episode of Series 6 . 
Previous: Mission: Incredible .
Next: Old School . 
Synopsis 
Edit
On a campaign to get kids eating more healthy, Saint Hearts school is chosen by celebrity chef Jimmy Jubbly as a test bed for his new health drink, Jubblyade. But Aneisha is quick to discover that it is affecting everyone's behaviour and making them operate with a hive mind. Under threat from her own team, can Aneisha single-handedly
 stop KORPS from wreaking havoc across the nation?
Despite the intense interest of KORPS in Zoe, the Crime Minister is unable to recognise her in person.
Tom Tupper refers to the Pookie Plummer Horror Stories. 
Aneisha Jones mentions her auntie, revealed to be Mrs King in The Mayze . 
The TV report scrolling bar references Calvin K

lein.