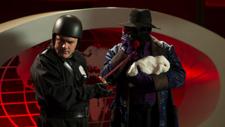 The Fall Of SKUL is the first episode of Series 6 . 
Previous: N/A.
Next: Trojan KORPS .
The old M.I. High team have graduated and spy handler, Frank London , is on the lookout for a new bunch of intrepid young secret agents to face a global network of evil enemies. Three teenagers who use their unusual talents for dubious purposes are selected. Signing up for spy duties are: super resourceful action man Daniel Morgan , master of disguise Aneisha Jones and tech genius Tom Tupper . In this explosive first episode, the new team embark on their first mission, intercepting the shipment of SKUL's ultimate weapon. The weapon turns out to be a teenage girl called V:9:5:Z:0:E:6 (who later becomes Zoe ), but there is an even deadlier enemy waiting in the wings.