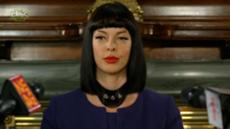 The Crime Minister is the second in command of KORPS.
Gender: Female
Eye Colour: Brown
Hair Colour: Black     
Occupation: KORPS second in command
Faction: KORPS
Enemy: M.I.9
First Appearence: Trojan KORPS
Last Appearence: The Last Stand
Biography
Edit
After the first war with KORPS, the Crime Minister was presumed dead as her body was never found. She was first seen visually in an old photo in the Bunker underneath M.I.9 HQ. After Agent Odysseus (a self assembling robot) was defeated she briefly spoke to Frank   through Odysseus. She explained that the explosion was all part of her escape plan and that numerous other KORPS operatives survived the battle.
She was later arrested in The Last Stand . 
Appearences 
Edit