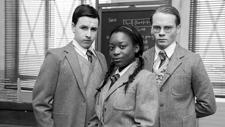 The Beginning is the sixth episode of Series 7 .
Previous: The Shadow Games .
Next: Return Of The Dark Wizard . 
Synopsis 
Edit
When the team gets word that KORPS have a weapon of mass destruction, it's all hands on deck! But to find the answers in the present, the team must investigate the past. They step back in time to the 1940s and not only learn about the origins of the WMD, but the true history of MI High. 
This episode is the second appearence of Linus Currie. 
KORPS has existed since the 1930s. 
The team visit the KORPS base under St Hearts, seen in Frankenstien .
The Saint Hearts base used to be part of a sewer, supporting Keri's theory that it used to be a toilet.
Roly references the events of The Hive , when he asks the Crime Minister if they had met before. 
Tom Tupper reveals his IQ is 150.