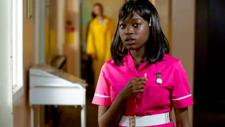 One Flew Over The Budgie's Cage is the tenth episode of Series 6 . 
Previous: The Dark Wizard . 
Next: Prison Break . 
The state of the entire nation-state hangs in the balance after Frank is sent to a nightmare treatment centre. However, KORPS has infiltrated the centre in order to steal the secrets of MI9 agents. With the threat of nuclear destruction looming, the team are faced with their most difficult dilemma yet, to save Frank's life or to rescue Britain from catastrophe. Will they choose the greater good over the well being of their spy handler?
The code name of the KORPS agent NEOCORTEX is mentioned at the end of Trojan KORPS .
Frank London was awarded an M.I.9 medal for bravery.