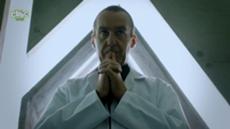 Mike Stern is a KORPS agent.
Gender: Male
Eye Colour: Black 
Hair Colour: Black
Occupation: M.I.9 double agent, KORPS agent
Faction: KORPS
Enemy: M.I.9
Biography
Edit
Mike Stern was a KORPS agent. In The League Of The Mata Hari , he helped frame Stella Knight , so Hamish Campbell  could obtain the leadership position.
In We Need To Talk About KORTEX , he had changed his identity to Martin Strong and was the manager of GDHQ, the intelligence communications department.
In The Last Stand he had replaced Linus Currie and oversaw the mind transfer of The Mastermind  and Keri Summers.
Appearences
Edit