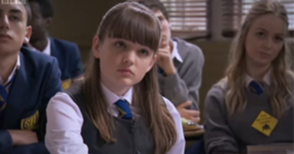 Melissa Allbright is a student at Saint Hearts.
Gender: Female
Eye Colour: Brown
Hair Colour: Brown
Occupation: Student
First Appearence: The Fall Of SKUL
Last Appearence: The Last Stand
Biography 
Edit
Melissa is the student president of Saint Hearts. Fussy and paticular, she is good at her job, and is shown as a teacher's pet. She also seems to have an obsessive crush on Dan , and seems oblivious to the fact that he doesn't like her and likes Zoe  instead.
Melissa is a member of all 23 extra curricular clubs at Saint Hearts. 
Appearences
Edit