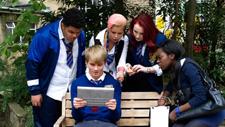 Free Runner is the eigth episode of Series 7 . 
Previous:The Return Of The Dark Wizard .
Next: The League Of The Mata Hari. 
Dan Morgan infiltrates a Guardian Angels style parkour group of vigilantes who are suspected of committing impossible crimes. Dan is drawn to the world of the Guardian Runners, but when he's faced with the reality of who his heroes really are, Dan is forced to make a choice about his future.
Stella arrives to conduct a M.I.9 annual assessment at Saint Hearts to see how the M.I.9 team behaves "above ground".
Despite meeting Stella Knight in The Hive , Mr Flatley is unable to recognise her.