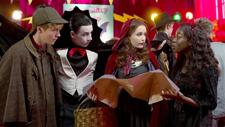 Frankenstien is the second episode of Series 7 .
Previous: The Mayze .
Next: The Man Who Drew Tomorrow .
Keri's first mission as a fully-fledged M.I.9 agent comes sooner than anyone expected when the team discover an abandoned KORPS base beneath the school playground. Keen to investigate, their efforts are repeatedly hampered by the Saint Heart's centenary celebrations. As a terrible storm closes in, Frank begins acting strangely. When they finally uncover the truth about KORPS' long-forgotten experiments to create monstrous Super-Soldiers, they worry that it is too late to save their beloved boss and prevent the fancy dress disco becoming a Gothic horror nightmare.
 Lady J says the title episode. 
The episode is based on the novel "Frankenstien".