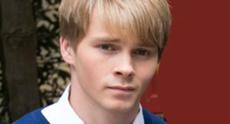 Daniel Morgan is an MI High spy and student at Saint Hearts. 
Gender: Male
Eye Colour: Blue
Hair Colour: Blonde
Occupation: Spy and student
Faction: M.I.9
Enemy: KORPS
First Appearence: The Fall Of SKUL
Last Appearence: The Last Stand
He doesn't believe in fantasy as shown in The Dark Wizard  and gets easily annoyed when other people go on and on about it. He seems to have an old school approach on things and is ready to do what ever it takes to be with his friends as portrayed in Old School.
He was recruited to M.I.9 after being seen performing parkour when chasing after some theives who stole an old lady's handbag. Dan is a skilled young warrior, but doesn't always make the right choices. He always wants to help his friends, and does what he can to do so. He is very suspicious of people and careful with who he trusts.
Appearences 
Edit