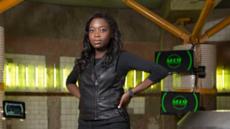 Aneisha Jones is an MI High spy and student at Saint Hearts. 
Gender: Female
Eye Colour: Brown
Hair Colour: Black 
Occupation: Spy and student
Faction: M.I.9
Enemy: KORPS
First Appearence: The Fall Of SKUL
Last Appearence: The Last Stand
Biography 
Edit
She is fun, friendly and very intelligent. She excels in drama, which is good for undercover field work and for creating excuses to get herself out of trouble; according to Stella she was spotted with the president of the United States, the foreign secretary and had a front row seat at the Royal wedding - her excuse was that she needed big names for her petition of Human Rights.
Appearences 
Edit